The Age-Defying Makeup Hack That Gives You An Instant Eye Lift, According To MUAs
The power of makeup is incredible, especially when it comes to eye products. With the right products and technique, you can completely change the appearance of your eyes, whether you want them to look bigger, more lifted, or complete with thicker lashes.
If you're looking for the best anti-aging makeup tricks around, look no further. We spoke to professional makeup artists Alyssia Chang of Prevail Beauty and Margina Dennis to hear about their biggest pointers for creating an eye-lift with nothing but makeup.
25 Mother's Day Gifts Our Editors Would Buy For Their Own Moms
Shutterstock
Tight line eyeliner
For an instant eye lift that also offers an added beauty bonus of thicker-appearing eyelashes, Chang has one perfect trick up her sleeve—in fact, she says it's her "favorite age-defying makeup hack," so we're excited to share this one.
Chang says you should start with a dark brown or black gel pencil eyeliner. "Tight line the upper lash waterline," she instructs. "Tight lining" is an eyeliner technique that involves applying liner to the inside of your upper waterline—that's the area right inside your lash line.
Next, Chang recommends extending your liner out to create a small wing. "When you get to the end of the eyes, extend the liner out from the eye (about 1mm)," she says.
Finally, you'll want to take a thin eyeshadow brush and "gently fan up and out the tail end of the eyeliner to smudge it out."
This is key to a more youthful appearance and will give you an instant eye lift, Chang says: "This lifts the eyes by drawing attention to the eyes upwards from creating a thicker eyelash frame. The smudging the tail liner also makes a natural 'wing ' to help the illusion of a lift!" We love it!
Chang says to finish, all you need to do is apply your usual eye makeup routine. That leads us to another tip from MUA Margina Dennis…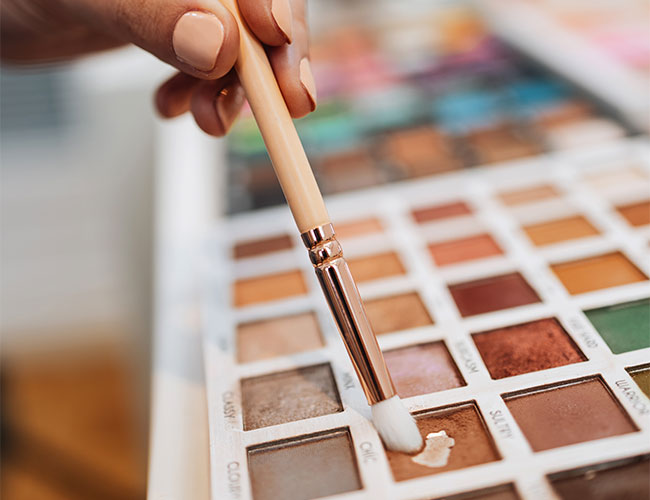 Shutterstock
Finish with the right eye shadow
When you're all done with your age-defying eyeliner, it's time to finish off your look with eye shadow. As it turns out, choosing the right eye shadow shade in the right way can also take years off of your face, and Dennis has just the right advice.
Dennis suggests "applying eye shadow so that it is more up and out with a lighter satin finish color on the lid and a deep color in the crease."
As far as color goes, she suggests a medium-tone for the lid if you have deep-set eyes. "Colors in the peach family are great because they act as a natural color corrector and brightener," she explains. If your skin is on the fairer side, go with a warm pink color. For those with deeper skin tones, Dennis suggests choosing sienna eye shadow.
So there you have it: the perfect anti-aging eye makeup routine, from liner to shadow. If you put all of these expert tips together while applying your eye makeup, you're sure to look younger than ever!
fbq('init', '1230911863589528'); fbq('track', "PageView"); .