Bay County camps offer the cure for the summertime blues
In the blink of an eye, schools will close for the summer, and area families are beginning to scope out activities to keep students of all ages busy and inspired.
Bay County boasts a wide array of camps and summer activities tailored to fit the interests of kids, tweens, and teens. While options certainly exist outside the country lines, the proximity of these local choices makes it easy for caregivers to scoot campers back and forth, even on workdays, but with most camps limiting numbers, the time to act is now.
1. Bay Arenac ISD Career Center's CTE Summer Camps
New on the scene this year are these one-of-a-kind Career and Technical Education (CTE) camps designed for tweens and teens entering grades 6-9. All camps run June 20-23 from 8 am until 3 pm Campers get a continental breakfast, lunch, T-shirt, and a take-home project.
According to its website, "Each career camp is filled with fun, hands-on activities allowing you to acquire new skills and complete exciting projects in a safe educational environment." Options include Cooking Around the World, Entrepreneur Junior, Metal Works, Programming & Electronics, Club Med, Cultivating Futures in Agriculture, and Construction Trades.
For more information, contact Tiffany Sheppard, Program Coordinator, at (989) 686-4770 ext. 3412, or, to register, visit the registration link. Each camp costs $200 per camper.
2. Bay County Community Center Summer Recreation Program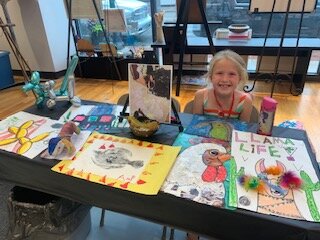 Space is limited at the Studio 23 camps, which begin in June. Registration opens in May.Open to children ages 5-14, the Bay County Community Center, 800 John F. Kennedy Drive., will once again offer morning and afternoon recreation sessions by age. For three and half hours, participants will engage in educational activities, arts and crafts, sports clinics, field trips within walking distance, and more. The program runs Monday through Thursday, from June 13- Aug. 11.
Registration begins on May 2 and the cost is $115 per camper. Visit the website for more information, forms, and registration.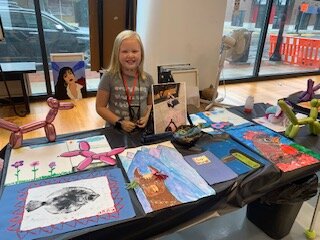 Studio 23 offers Summer Art camps in different mediums such as paint, pencils, clay, or chalk.3. Studio 23/The Arts Center Summer Art Camps
Calling all lovers of art. If your child loves to create, a camp at Studio 23 might be the right fit. Located at 901 N. Water St., Summer Art Camp includes playing with all sorts of mediums, such as paint, pencils, clay, or chalk.
Art camp sessions run Monday through Friday from 8 am to 3:30 pm These camps are recommended for ages 7-12 and are limited to 10 participants per session, so don't wait to sign up. There are six different week-long options, beginning with the week of June 13 and ending the week of Aug. 15. More details are available on its website.
To register for a camp session, call Studio 23 at (989) 894-2323. The cost for members is $160 and $190 for non-members.
At Equestrian Camp, kids learn the basics of caring for and riding horses.4. Equestrian Camp
Whether your child is an experienced horse rider or a beginner, Serenity Equine Facility, 951 N. Callahan Road, has a class to meet his or her needs.
Owner and Camp Director Kennedy Gollin says participants will take part in a variety of activities every day in the Beginner Camp, including a horse-related craft, games, fundamentals of owning a horse and caring for a horse, barn chores, and anatomy of a horse.
"There is hands-on horse experience throughout and ride time at the end of every day," Gollin says. Camps meet from 9 am until 2 pm on Monday through Thursday of each session. The Beginner Camp charge is $300.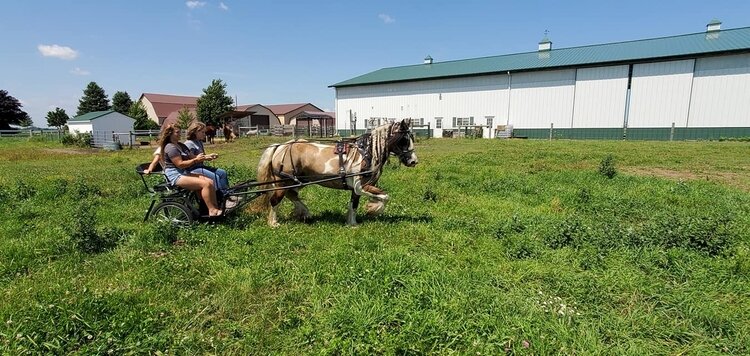 In the Advanced Equestrian Camp, kids try different riding disciplines.For those with basic riding skills, the new Advanced Horse Camp may be a better fit. Campers will still take part in many of the same activities as in the basic session; However, each day will focus on a different riding discipline, as well as equine first aid and tack fitting. The camp will also offer a slumber party and movie night at the barn on day 3 of the Monday-Thursday camp. Advanced camp costs $375 per participant.
To find session offerings, age requirements, and other details visit the Facebook page, or contact Gollin at (989) 860-0262.
5. Camp Invention
Looking for some hands-on STEM fun this summer? Children entering grades Kindergarten through 6th can attend Camp Invention at Kolb Elementary School, 305 W. Crump St., June 13-17 from 9 am-3:30 pm The weeklong camp costs $245 and promises to keep your child engaged in an innovator mindset pledge.
Through a variety of activities, students will demonstrate problem-solving, creativity, confidence, and persistence while under the leadership of certified educators.
To register or find more information, visit the Camp Invention website.
6. theater opportunities
Students can take center stage at one of the theater opportunities in Bay City this summer. Whether they want to direct, act, sing, or work with the technical crew, there is a program that caters to their interests.
The Bay City Players, 1214 Columbus Ave., a veteran provider of summer youth theater opportunities, will be offering a new Encore Youth Theater Program this summer that will be a mix of games, workshops, and One-Act plays. Facilitated by experienced theater educator Carol Rumba, the program will run Monday through Thursday from noon to 4 pm, July 11-Aug. 3, culminating in a dress rehearsal and final performances Aug. 4–6. The program is open to students currently in 2nd-11th grades, and those in 9th-11th grades can apply to be student directors. Call (989) 893-5555 or visit the Players website to sign up now!
Fresh on the scene is the Titus Theater program, though it is being run by familiar youth theater faces. Titus offers opportunities for both on- and off-stage participation to students currently in 3rd through 12th grades. Dates and times for participation vary; Participants can choose the Saturday slot that fits them best, and eventually weekday rehearsals will be added. Final performance dates will be June 16-18 at Westminster Presbyterian Church, 103 E. Midland St. Though the program began on April 9, registration will still be accepted in-person or online through April 23. Contact Sarah Rice with any questions at (989) 274-7089, or visit Facebook page.
7. Local School District Camp Offerings
It is always wise to check with your student's school district to see what they may be offering this summer.
For instance, Bangor Township Schools offers Bobcat Recreation Summer Camp to any of its students. Athletic Director Dr. Craig Aimar looks forward to bringing this program back after having to cancel it during the last two summers.
Hosted at Bangor Central Elementary, the camp will begin June 20 and end July 28, running Monday through Thursday weekly. Updates on registration and further information will be posted on the district's athletic webpage, according to Aimar.
Many other summer-fun opportunities exist and have yet to publish their information. Faith-based camps and other recreational programs may be found by contacting your local churches or spiritual centers, schools, or libraries, or by paying a visit to the Great Lakes Bay Parents webpage for more local options.