Educators who have risen to the many challenges of the past year have often done so with the help of educational technology. Many areas of primary and secondary education have adapted to new learning methods, sometimes more than once, as the year has progressed. Classes across the country have relied on distance, blended, and in-person learning models to continue to provide students with meaningful learning experiences.
Instructional technology essential to teaching alongside the classroom has evolved as teachers and IT professionals discover innovative solutions at every turn. K-12 IT leaders have worked with each other and with students to create the best learning environments. They have struggled to bridge digital justice gaps and shared resources for everything from classroom management systems to professional development to help other teachers succeed.
While we cannot be certain how far distance learning will continue to change the future of education, EdTech I am confident that these bloggers, podcast hosts, and social media influencers will lead the way. To stay up-to-date with the latest trends in this ever-changing landscape, be sure to follow these 30 influential IT influencers. If you are among the K to High School 2021 IT Influencers listed below, make sure you get the word out and don't miss our influencer photos for your social media profiles and websites.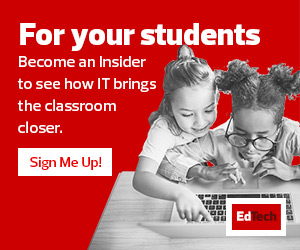 Alejandro Rivera is the Principal of the Jericho School District in New York, a district with the highest rating for academic achievement. He constantly promotes hybrid and distance learning activities for his elementary school students. See what George A. Jackson Elementary School innovates next by following Rivera on Twitter.

Alice Keeler advocates the integration of educational technology into teaching and supports the effective use of technology to better communicate with students. She makes her way into the world of digital learning environments on her blog Technology teacher with Alice Keeler, where you share resources with other teachers.

Allie Beldin uses her blog, Belden saved her, to provide educational technology tips and tricks to other educators. It provides resources in three categories: instruction, student engagement, and distance learning. Belden was the first certified Google for Education instructor in her Georgia county, teaching math and science to middle grades.

Amber Coleman-Morley discusses teaching students challenging lessons about social justice and equality on her blog, mother of all heads. When she's not interviewing guest experts on the podcast she's hosting with her three kids, she calls Let K12 betterColeman-Mortley serves as Director of Social Engagement at iCivics, a small, nonprofit educational technology organization that provides civics through video games and classroom resources.

Librarian Andrea Keeler supports technology as a resource and shares her experiences with distance learning (and leading the Remote Girl Scouts) on her blog, A bee in the supports. She is very active on social media and creates videos about being a middle school librarian on TikTok.
Brandon Johnson encourages teachers to take new approaches in the classroom to increase student participation. He was previously named the Top 25 STEAM Educator to follow on Twitter. Now he is a District Supervisor of Curriculum and Instruction in Texas, and can also be found giving workshops on leadership and classroom experience.

Brian Buffington is the Director of Education Technology for Georgia's leading regional services agency and keynote speaker. He loves helping teachers innovate with technology to provide the best student engagement experience. Buffington also created a file Puff Nuggets Last year's podcast to share tech tips and teaching inspiration.

Brian Miller is a technical advisor and senior director of global strategic communications at Wonder Workshop. He shares his expertise in educational games that promote computer science, science, technology, engineering, and mathematics, and the importance of learning through play. Miller also helps schools build new manufacturing spaces that integrate technology, drawing on his 15 years of experience as an educator.

Christina Kishimoto is the supervisor of the Hawaii State Department of Education. She often uses social media, such as her Twitter account, to share resources for educators and ideas about the state of learning across Hawaii. Throughout her career in kindergarten through secondary and higher education, she has focused on improving equality in education.

Kristen Pinto, Kindergarten teacher, co-authored a book called Focusing on Play-Based Learning with Technology Innovating Play: Reimagining Learning Through Meaningful Technological Integration. On her blog, also titled play innovationPinto provides resources, tips, and advice for other teachers of young students.
Daniel Stitzl, a former middle school teacher, now works as a district technology integration coach for Streetsboro, Ohio schools. Presenting at conferences in the past on topics such as blended learning, instructional technologies for educators, and student intervention resources, Stitzel loves to share his instructional technical knowledge with educators outside his area.
Doug Levine is the National Director of K12 SIX, a non-profit community for sharing K-12 threat information, and the founder of the K-12 Cyber ​​Security Resource Center. He also created the K-12 Internet Incidents Map, a database of all cybersecurity incidents in education from K-12 education.

eTwinz, Alberto And Mario Hirise, teaches fifth and sixth graders at Canyon Creek Elementary School in Utah. Originally from Spain, eTwinz are immersive Spanish teachers who believe strongly in integrating educational technology into their pedagogical assets. They present at conferences on 21st century teaching tools and practices, and share global experience with other educators.


Jaime Donally is the founder of ARVRinEDU, a site dedicated to helping teachers implement immersive technology in their classrooms. As an education technology consultant, she works with teachers to bring augmented and virtual reality to students. Donali has written two books on the topic of immersive technology in education.

As an educator, James Farlac bridges the gap between education and technology. host #RGVEduChat30-minute conversation with teachers asking four questions per week. Through these questions and other posts, he frequently communicates with other teachers on social media.

Josh Harris is the Director of Education Technology at Alisal Union School District in California. He has a passion for educational tools, such as Chromebooks and Google Apps for Education, that can help teachers take steps to bridge the digital divide. He shares tips and resources with teachers on his website, Edtech Explorer.

Carly Mora is a technology teacher on a special assignment and a computer science teacher at a STEM school in California. She shares educational technology tools and professional development resources on her website, Karly's PD Resources, to expand other educators' toolkits.

Keith Krueger is CEO of the School Networks Consortium and frequently promotes news and resources for the K-12 community on Twitter. He is empowering education technology users globally, having visited Australia, Asia, Europe and South America during his career to discuss ICT in education.

Kimberly Bryant is the founder and CEO of black girls code, a nonprofit organization dedicated to introducing young women of color to technology and computer science. Bryant's focus on expanding opportunities for girls of color has led to many recognitions, including a Jefferson Award for community service and interest as one of the Fast Company's most innovative people and champion of change in the White House.

Michael "The Tech Rabbi" Cohen is a designer, educator and instigator of creativity. Its mission is to help educators around the world reveal their own creativity so that they can empower students to solve interesting problems and become positive contributors to our global community. When he's not traveling the world to spread his message, he serves as Director of Innovation at Yeshiva University of Los Angeles Boys School, where he directs and teaches at Schlesinger STEAM and Entrepreneurship Center.

Michelle Moore is an educational technology speaker and advocate. She spoke of pioneering professional learning in the K-12 space and promoting digital equality, professional development, and innovation. Moore is an ISTE teacher who is passionate about cross-disciplinary science, technology, engineering, and mathematics (STEM) fields.

Nicole Leno EdTechThe first student influencer is a video blogger and has a large following on YouTube and TikTok. She has created videos about her experiences as a high school student in the digital age, addressing related topics such as everyday educational technology and hybrid learning.

Rachel Dené Booth is a Spanish educator and tech startup. She is the former chair of the ISTE Teacher Education Network and now hosts the ThriveinEDU broadcast. Her passion for emerging technology and the innovation of the student experience is evident in her keynote speeches and the five books she has published.

The founder of educational consultancy Liberty Leadership Development, he calls himself a "Chief Organizational Officer". Works with schools to nurture and evaluate student data to bring equity to school systems. As a result of his work, schools across the country have increased graduation rates and enrollment in advanced placement classes, particularly among minority and disadvantaged students.

Randy Rogers believes strongly in empowering and learning students through technology. As the Director of Educational Technology for the Goodson Independent School District in Texas and President of Member Services for the Texas Computer Education Association, Rogers helps teachers create engaging, experiential lessons for students through the use of technology.

Tricia Lewis advocates for educational technology in her role as a technology integrator in the Richland School District in Wisconsin. She has been certified by Google for Education and Microsoft in Education, and she shares Tech Tuesday Tidbits on her blog every week.

Tyler Whitman is the Education Technology Coordinator for the Washington, DC metro area. Whitman co-founded the Google Educators Group of Northern Virginia to share Google for Edu resources with other educators in the area. Through its website, Witman EDU, it offers teacher training in various educational techniques.
Victoria Thompson is a science, technology, engineering, and mathematics (STEM) coach and technology education consultant. She works with educators in Washington State (and via Twitter) to create inclusive STEM environments and bridge equity gaps in STEM education. She has also been a guest on several podcasts discussing her anti-racism work at ed tech.
to discover EdTechK-12 IT influencers and blogs from previous years, visit our lists from 2020, 2019, 2018, 2017, 2016 and 2015.